Find the Best Motorcycle Rides in the
 Blue Ridge Mountains.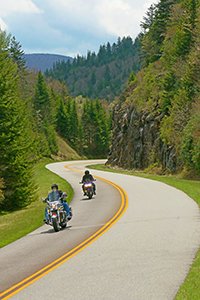 Maps for Riding the Blue Ridge Parkway




Maps of the Best Motorcycle Roads in the Smoky Mountains




Maps of Great Motorcycle Rides in the Georgia Mountains


America Rides Maps show:



Great Motorcycle Roads in Virginia 

Great Motorcycle Roads in North Carolina

Great Motorcycle Roads in South Carolina

Great Motorcycle Roads in Tennessee

Great Motorcycle Roads in Georgia

Great Motorcycle Roads in West Virginia
There are more great motorcycle rides in the Blue Ridge and Smoky Mountains than anywhere else!  
It's where America Rides.
---
These are the most detailed and comprehensive motorcycle ride maps you'll find.
Quality and accuracy is important!
When we map an area we investigate nearly every road that appears on that map. It takes several extended trips, often over a period of months to ride them all, then figure out how they all fit together. We also evaluate places to stay, restaurants, and motorcycle friendly locations and select the most outstanding of them to share with you. You get first hand experience - if it's on the map we've been there, enjoyed the experience, and stand by our recommendations - they are the best of the best.
We strive to keep the maps up-to-date
.
We are constantly working on the next version of each map. Each time a map is updated we re-ride the roads on that map and explore new ones. Things change with time - gas stations, businesses, restaurants open and close. Old dirt roads are paved, new sections opened. We are constantly searching for more scenic stops, overlooks, historic sites, and things you'll enjoy on your travels.
Short descriptions of each road are on the back side of the map
. With so many roads to choose from we think it's a good idea to help you choose between them all. You'll also find descriptions of the roadside waterfalls which appear on the map. On the Premium Maps you get inset maps that detail the larger towns and cities to show more detail and help you navigate them.   
---
Motorcycle Ride Maps designed for Motorcycle Touring by Motorcycle Riders
Smaller Size / Larger Value - 
America Rides Maps are made to be used on the road. 

We found larger maps difficult to handle, complicated to fold, and hard to read.


We developed maps that fit in your pocket so they are always handy

Map on one side / Road descriptions on the other side

printed on synthetic water and tear-resistant materials 

Rugged and durable, small in size yet packed with information, we ride every road on every map to evaluate and compare them. We select the best roads and
highlight them in red
so they are easy to see on the maps. 
We look for

2-lane, winding, scenic back roads with little traffic

.
Once the best roads are identified, we find the best connecting roads between them and
highlight them in blue
. 
By following the
red
and
blue
roads, 
you'll always be on the best rides in whatever area of the Blue Ridge you are in

.
---
Map Specs: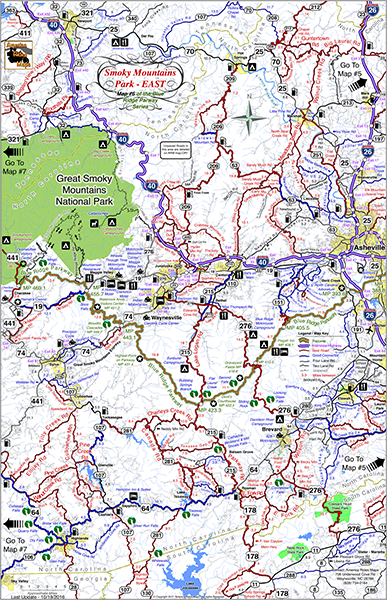 America Rides Maps are developed through extensive road testing:
| | | |
| --- | --- | --- |
|  SIZE: |  Folded Size |  Unfolded Size |
| Pocket Maps  |  4 1/4 x 5 1/2 inches |  11 x 17 inches |
| Premium Maps |  4 1/2 x 8 inches |  24 x 36 inches |
ALL 9 pocket maps will fit in your shirt pocket!

- easy to store on the bike
All maps are printed on durable water and tear resistant materials.
Maps are numbered in sequence from north to south. They overlap to make it easy to move from one map to the next.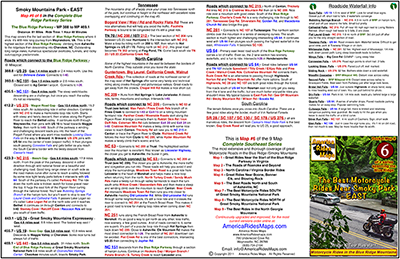 Road
Descriptions
on reverse
side of Map
---
Motorcycle Road Map Features:
Distance between roads indicated

Remote gas stations shown

Roadside Waterfalls highlighted


Motorcycle Friendly places indicated



---
Secure checkout through PayPal
Use your Payal Account or 

Checkout using your credit card without a PayPal account 
 YOU DO NOT NEED A PAYPAL ACCOUNT, YOU DO NOT NEED TO OPEN A PAYPAL ACCOUNT to use your credit card
Simply choose the gray box with "Pay with Credit or Debit Card" on the PayPal menu during checkout
We have chosen to use PayPal as it offers the best security for our transactions. It may take an extra click or two, but we have learned how important it is to be safe online. 
If you have any difficulties processing your order, please call and we will help - 828-734-2164

---