#1 Great Rides Near the Start of the Blue Ridge Parkway
On This Map: Map #1
First 40 miles of the Blue Ridge Parkway

Closest gas station to each parkway exit

listed
More than 20 of the best rides in the surrounding area highlighted and described
More than 16 good connecting roads shown
Scenic points, waterfalls, motorcycle-friendly stops, etc. shown
Also shown / additional features:
Map #1 in the 6 Map Blue Ridge Parkway Set
Remotely located (out-of-town) gas stations identified
Handy, easy-to-use, accessible pocket map size
Waterproof and durable

Best rides boldly 

highlighted in red

Good connecting roads 

highlighted in blue

Rides are described on back of map
Mileage between road segments shown

Overlaps and connects with adjacent maps 
---

Description of area:
The Blue Ridge Parkway starts it's 469 mile long course south from Virginia's Skyline Drive through Shenanoah National Park in Waynesboro, VA. The Blue Ridge Parkway is a linear park connecting Shenanoah National Park in Virginia to Great Smoky Mountains National Park in North Carolina and Tennessee. The uninterrupted two lane winding National Roadway follows the highest mountain ridges from end to end with spectacular views and historic attractions.
To the east of the park road the vast expanse of the Piedmont rolls towards the coast. To the west the Shenadoah Valley spreads to reach the mountains which rise again near the West Virginia border. As much of this area is broad and relatviely flat, finding the best rides here can be a challenge, but this map will lead you to them.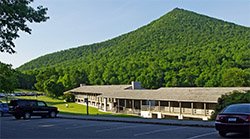 The roads which intersect this narrow section of the Blue Ridge Parkway tend to be short and steep descents. The best of these are highlighted in red and there are some gems.
You'll also find a good number of connector roads on this map highlighted in blue to help lead you between the best rides and choose the better roads. The rides get better as you head west and the mountains grow. Sometimes it's worth just a few more minutes ride over a ridge to reach the better route in the next valley.
---
Features
Explores the best roads of the north central mountains of Virginia

It dips one corner into West Virginia

The map touches the suburbs of Lynchburg 

Douthat State Park
Falling Spring Falls
Natural Bridge Attractions
Peaks of Otter Parkway Visitor Center
James River Parkway Visitor Center

Humpback Rocks Parkway Visitor Center
---
Cities and Towns on this map:
Virginia: Staunton, Waynesboro, Lynchburg, Craigsville, Goshen, Covington, Lexington, Clifton Forge, Iron Gate, Glasgow, Buena Vista, Amhurst, Fincastle, Buchanan
---
Map Specifics:
size (unfolded) - 11 x 17 inches

Size (folded) - 4 1/4 x 5 1/2 inches (fits in your pocket)

Fast, simple, easy folding

Layout - Full color map on one side with detailed directions on the back

275+ miles of the best rides are indicated in red
80+ miles of good roads to use as connecting rides shown in blue
Easy to read 

color-coded road labels

 to aid navigation
Mileage between roads is indicated
Reliable and remote gas stations are shown and those fuel stops nearest the parkway

Points of interest included

Roads which connect to the parkway are clearly identified
---
Know Your Blue Ridge Map Options:
Map #1 is sold a a single map

Map #1 i

s part of the 6 Map "Blue Ridge Parkway " Map set (Maps 1-6)




Map #1 i

s part of the 7 Map "Blue Ridge Parkway PLUS the Dragon " Map set (Maps 1-7)




Map #1 i

s part of the 9 Map "Full Southeast Package " Map set (Maps 1-9)