#3 North Carolina / Virginia Border Rides
On This Map:
Closest gas station to each parkway exit

 listed
400 miles of the best routes shown
More than 100 Miles of the Blue Ridge Parkway detailed
More than 40 Great Rides in the surrounding area highlighted
Scenic points

, motorcycle-friendly stops, etc. shown
Also shown / additional features:
Map #3

 in the 6 Map Blue Ridge Parkway Set

Remotely located (out-of-town) 

gas stations

 identified

Handy, easy-to-use, accessible pocket map size
Waterproof and durable

Best rides boldly 

highlighted in red

Good connecting roads 

highlighted in blue

Rides are described on back of map
Mileage between road segments shown


Overlaps and connects with adjacent maps 
---
Description of area:
I NEVER expected to find so many great roads in this area! Explore an amazing wealth of two lane back roads which connect to and lie in the areas which surround the Blue Ridge Parkway as it traverses the borders of North Carolina and Virginia. They weave a web of wonderful rides through this rolling terrain. No other map of the region details as many great motorcycle rides as this one. It has become one of my favorite areas to ride in.
The rolling hill country of southern Virginia is full of fantastic scenic two lane roads that wind though the pastoral countryside and into North Carolina. Though the elevations are not as high as found elsewhere, there are plenty of long range views as well as great rides through forests, farmlands and historic sightsdot the landscape. This is where the Blue Ridge Parkway was started and while there is more encroachment from the surrounding neighborhoods, don't be fooled by the views from the park. They are often better once you stray off it into the surrounding areas. I used to lay over further south. Now, I head here, it's just that good!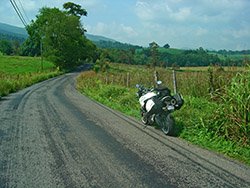 The Blue Ridge Parkway changes course in this area running more east-west than it's usual north-south diagonal up the spine of the mountains as it makes the connection between the Blue Ridge Mountains of Virgina and the vaulty Black Mountain range in North Carolina. This motorcycle map is the most extensive and detailed compilation of these great roads, many of which intersect the Blue Ridge Parkway, some so obscure they are rarely discovered and enjoyed. Others, more well known, include scenic overlooks and views of stunning mountain parks. I've really enoyed riding this area and producing this map, and I'm sure you will too.
---
Features
More than 100 miles of the Blue Ridge Parkway

Mt Rogers National Recreation Area

Stone Mountain State Park

Hanging Rock State Park

Pilot Mountain State Park

Shot Tower Historic State Park

Numerous scenic locations and historic sights

Chateau Morrisette Winery

Hungry Mother State Park

Mabry Mill

Fancy Gap

Mt. Jefferson State Park

Groundhog Mountain

Rocky Knob

Meadows of Dan

Lover's Leap
---
Cities and Towns on this map:
Virginia: Marion, Atkins, Rural Retreat, Wytheville, Galax, Hillsville, Independence, Stuart, Floyd, Meadows of Dan
North Carolina: Jefferson, West Jeferson, Sparta, Dobson, White Plains, Mt Airy, Pilot Mountain, Danbury
---
Map Specifics:
Size (unfolded) - 11 x 17 inches

Size (folded) - 4 1/4 x 5 1/2 inches

Fast, simple, easy folding

Layout - Full color map on one side with detailed directions and on the back

Several good connecting roads are 

shown in blue

Easy to read color-coded road labels to aid navigation
Mileage between roads is indicated
Reliable and remote gas stations are shown

Numerous points of interest
---
Know Your Blue Ridge Map Options:
Map #3 is sold a a single map

Map #3 i

s part of the 6 Map "Blue Ridge Parkway " Map set (Maps 1-6)




Map #3 i

s part of the 7 Map "Blue Ridge Parkway PLUS the Dragon " Map set (Maps 1-7)




Map #3 i

s part of the 9 Map "Full Southeast Package " Map set (Maps 1-9)