#4 Great Roads Near Boone, Banner Elk, and Blowing Rock
On this Map:
Closest gas station to each parkway exit

 listed
30+ Great roads in the surrounding area identified

50+ miles of Good Connecting Roads link the best roads

500+ miles of the Best Riding
Scenic points, waterfalls, motorcycle-friendly stops, etc. shown
Also shown / additional features:
Map #4

 in the 6 Map Blue Ridge Parkway Set

Remotely located (out-of-town) 

gas stations

 identified

Handy, easy-to-use, accessible pocket map size
Waterproof and durable

Best rides boldly 

highlighted in red

Good connecting roads 

highlighted in blue

Rides are described on back of map
Mileage between road segments shown


Overlaps and connects with adjacent maps 
---
Description of area:
This map describes the area closest to the half-way point on the Blue Ridge Parkway including the region where Tennessee, North Carolina, and Virgina share borders. As the Blue Ridge Parkway makes it's climb from Virginia into North Carolina, the parkway leaves the Smoky Mountain range and enters the Black Mountains of North Carolina, the highest mountains in the east. It includes rides which touch on all three states. This map is bordered by I-40 in North Carolina in the south, and I-81 in Virginia in the northwestern corner. I-77 is not shown within the scope of this map, running north-south to the east. This area is easily accessible to the non-parkway traveler.
Because of it's location at the mid-point of the Blue Ridge Parkway, this area is a popular lay over for those making the long ride. Too many riders do not take the time to explore this area of great motorcycle rides in their pursuit of reaching either end of the parkway. It's worth budgeting a little extra time to sample some of the most scenic and rewarding, not to mention challenging rides, located nearby. Rather than describe the roads individually here, I've included three great loop ride decriptions to help direct you to some of the best of them. Choose the loop based on your time, they can all be shortened or lengthed as desired and portions of them can be incorporated into your trip along the Blue Ridge Parkway.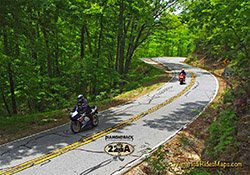 One of the loops describes the areas adjacent to the Blue Ridge Parkway in North Carolina. The second directs you to one of the most scenic and fun classic rides in North Carolina and Tennessee. The third loop leads you to some of the most exciting, beautiful, and technically challenging roads encompassing the junction of all three states, a ride that makes the infamous Tail of the Dragon™ at Deals Gap, NC., seem like just a short hop in the woods. If you have time to explore, don't miss some of the great roads found near the Mt. Rogers National Recreation area.
---
Features
92 miles of the Blue Ridge Parkway

The famous Lynn Cove Viaduct

Scenic Grandfather Mountain

The high pass through Roan Mountain State Park

Great roads surrounding Mt. Rogers National Recreation area

Great Mountain scenery in some of the highest peaks in the east

Some very Challenging Rides in 3 States
---
Cities and Towns on this map:
Virginia: Abingdon, Damascus, Troutdale, Bristol
Tennessee: Bristol, Elizabethton, Roan Mountain, Hampton, Mountain City
North Carolina: Lenoir, Morganton, Marion, Connelleys Springs, Rutherford College, Valdese, Drexel, Boone, Banner Elk, Blowing Rock, and Hickory, Nebo, Spruce Pine, Bakersville, Crossnore, Newland, Elk Park, Beech Mountain, Seven Devils, Sugar Mountain, Jefferson, West Jefferson, Lansing
---
Map Specifics:
Size (unfolded) - 11 x 17 inches

Size (folded) - 4 1/4 x 5 1/2 inches

Fast, simple, easy folding

Layout - Full color map on one side with detailed directions and on the back

500+ miles of the 

best routes are indicated in red

50+ miles of good connectiong roads 

highighted in blue

Easy to read color-coded road labels to aid navigation

Mileage between roads is indicated

Reliable and remote gas stations are shown

Numerous points of interest
---
Know Your Blue Ridge Map Options:
Map #4 is sold a a single map




Map #4 i

s part of the 6 Map "Blue Ridge Parkway " Map set (Maps 1-6)




Map #4 i

s part of the 7 Map "Blue Ridge Parkway PLUS the Dragon " Map set (Maps 1-7)




Map #4 i

s part of the 9 Map "Full Southeast Package " Map set (Maps 1-9)