#5 The Best Rides North and South of Asheville, NC
On This Map:
Closest gas station to each parkway exit

 listed

More than 50 different superb rides located in the surrounding area

Highest Mountain in the East - Mt. Mitchell

Map extends into South Carolina and Tennessee

Scenic points, waterfalls, motorcycle-friendly stops, etc. shown
Also shown / additional features:
Map #5

 in the 6 Map Blue Ridge Parkway Set

Remotely located (out-of-town) 

gas stations

 identified

Handy, easy-to-use, accessible pocket map size
Waterproof and durable

Best rides boldly 

highlighted in red

Good connecting roads 

highlighted in blue

Rides are described on back of map
Mileage between road segments shown


Overlaps and connects with adjacent maps 
---
Description of area:
The highest mountains in the east are found north of Asheville, North Carolina, crossing the border into Tennessee. The extreme terrain has left most of this spectacular area wild and remote with only a sparse scattering of small historic mountain towns. The great two lane roads that wind and twist through, around, and over these hills and valleys deter most commercial and tourist traffic leaving them for the motorcycle rider to enjoy. The area covered on this motorcycle ride map runs from Asheville, NC, to Johnson City, TN, in the north, to Marion, NC, in the east, and includes the roads south to Lake Lure, NC. In addition to the great motorcycle rides found within the mountains, this motorcycle map includes 84 miles of one of the most remote high sections the Blue Ridge Parkway.
Even as you draw near urban Asheville, roads lead from the heart of the city to the heights of the Blue Ridge Parkway within just a few miles, snaking their way up the steep hills which surround town. It is the territory to the north of Asheville which holds some of the finest motorcycle rides rides, long wonderful winding roads that make an adventure of revealing the mountains beauties and majesty. Those who wish to stay closer to the Blue Ridge Parkway or the Interstate highways will be rewared with the roads which course through the mountains north and south of the city, rides which take you through and around dramatic Hickory Nut Gorge and Lake Lure.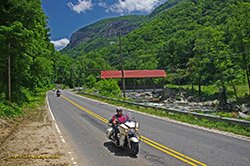 This motorcycle ride map catalogues 400 miles of the best two lane back roads in the area. The major highways and roads are included so you can easily reach them to build loops that will provide days and days of great motorcycle riding or avoid the four lane routes completely on the great roads listed. This map takes great pains to steer you off the roads that carry the bulk of the traffic or pass through congested areas and get you on the roads that will keep your motorcycle cruising through the fantastic scenery and coming round the Smoky Mountains.
---
Features
84 miles of the Blue Ridge Parkway

Mt. Mitchell State Park - highest mountain in the east

Lake Lure / Chimney Rock / Hickory Nut Gorge

Roan Mountain State Park

Craggy Gardens
---
Cities and Towns on this map: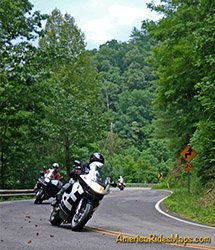 Tennessee: Elizabethton, Erwin, Unicoi, Flag Pond, Hampton, Jonesborough, Roan Mountain
North Carolina: Asheville, Black Mountain, Fletcher, Fairview, Swannanoa, Old Fort, Spruce Pine, Burnsville, Bakersville, Weaverville, Mars Hill, Montreat, Marion, Old Fort, Bat Cave, Elk Park, Newland, Crossnore, Linville Falls, Nebo, Woodfin, Barnardsville, Beech Mountain, Green Mountain
---
Map Specifics:
Size (unfolded) - 11 x 17 inches

Size (folded) - 4 1/4 x 5 1/2 inches

Fast, simple, easy folding

Layout - Full color map on one side with detailed directions on the back

400 miles of the best routes are 

indicated in red

Easy to read color-coded road labels to aid navigation

Mileage between roads is indicated

Reliable and remote gas stations are shown

Numerous points of interest

Dealer / Repair facilties shown
---
Know Your Blue Ridge Map Options:
Map #5 is sold a a single map

Map #5 is part of the 6 Map "Blue Ridge Parkway " Map set (Maps 1-6)

Map #5 is part of the 7 Map "Blue Ridge Parkway PLUS the Dragon " Map set (Maps 1-7)

Map #5 is part of the 9 Map "Full Southeast Package " Map set (Maps 1-9)