#6 The Best Motorcycle Rides Near Smoky Mountains Park - EAST


On This Map:
Closest gas station to each parkway exit

 listed

More than 50 different superb rides located in the surrounding area

Southern end of the Blue Ridge Parkway at Cherokee, NC

More than a dozen roadside waterfalls

Scenic points

, waterfalls, motorcycle-friendly stops, etc. shown
Also shown / additional features:
Map #6

 in the 6 Map Blue Ridge Parkway Set

Remotely located (out-of-town) 

gas stations

 identified

Handy, easy-to-use, accessible pocket map size
Waterproof and durable

Best rides boldly 

highlighted in red

Good connecting roads 

highlighted in blue

Rides are described on back of map
Mileage between road segments shown


Overlaps and connects with adjacent maps 
---
Description of area:
If you get just one pocket map, get this one. The final and highest section of the Blue Ridge Parkway is the best of it. The roads which intersect the parkway are outstanding. Map 6 covers this first half of the "Land of the Waterfalls" (Map 7 covers the other half). The mountains here are tall, broad, and the extensive riding through them is spectacular.
This map covers the are between the eastern half of Great Smoky Mountains National Park and the city of Asheville, NC. It extends north into Tennessee and south into South Carolina. The Blue Ridge Parkway wraps around the city of Asheville, hit it's lowest point in North Carolina at the French Broad River, then climbs steadily to reach it's highest point after a 20 mile stretch more than a mile high. The last section of the park road makes a gradual descent from Soco Gap (Maggie Valley) to finally connect to Great Smoky Mountains National Paark just outside Cherokee, NC.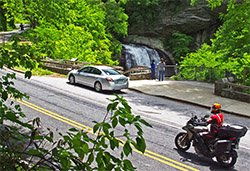 This is one of the most popular motorcycle vacation areas in North America. The good roads seem endless, the scenery is thrilling, great places to stay abound. 
This map is the first of three which detail the Smoky Mountain area. It covers the great rides found near the eastern section of Great Smoky Mountains National Park.  Map #7 covers the roads south and west of Great Smoky Mountains National Park, Map #8 covers the roads north and west of Great Smoky Mountains National Park.  These 3 maps (#6,#7,#8) are sold as the Smoky Park Set. These 3 maps are combined to make the Premium Map "100 Great Motorcycle Rides in the Smoky Mountains".  Pocket map "12 Classic Deals Gap Motorcycle Rides" lists 12 classic rides in the Smoky Mountain area and 6 good loop rides.
---
Features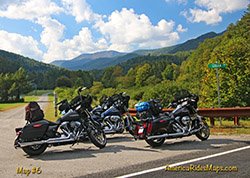 Shows the highest and most scenic section of the Blue Ridge Parkway
Many easy to see roadside waterfalls
Long winding rides through portions of the Pisgah National Forest
The Hot Springs Spa really does have natural hot springs
Whitewater Rafting available in this area

Access miles of superb trout streams

Close to Asheville, Waynesville, Maggie Valley

Convenient to Interstate Highways - easy to get here

Lots of places to eat, shop, and explore in the small historic towns
---
Map Specifics:
Size (unfolded) - 11 x 17 inches

Size (folded) - 4 1/4 x 5 1/2 inches

Fast, simple, easy folding

Layout - Full color map on one side with detailed directions and on the back

Best routes are 

indicated in red,

Easy to read color-coded road labels to aid navigation
---
Cities and Towns on this Map:
North Carolina:
Asheville, Weaverville, Fletcher, Mars Hill, Mountain Home, Laurel Park, Brevard, Hendersonville, Lake Toxaway, Etowah, Bent Creek, Leicester, Marshall, Hot Springs, Trust, Fines Creek, Junaluska, Clyde, Canton, Waynesville, Maggie Valley, Balsam Grove, Sylva, Cherokee, Cullowhee, Tuckaseegee, Sapphire, Highlands, 
Hillsboro
Tennessee:

Del Rio, Newport
South Carolina:

Slater-Marietta
---
Know Your Blue Ridge Map Options:
Map #6 is sold a a single map

Map #6 is part of the 3 map "Smoky Park" Map set (Maps 6-8)
Map #6 is part of the 6 Map "Blue Ridge Parkway " Map set (Maps 1-6)

Map #6 is part of the 7 Map "Blue Ridge Parkway PLUS the Dragon " Map set (Maps 1-7)

Map #6 is part of the 9 Map "Full Southeast Package " Map set (Maps 1-9)