The Best Unpaved Roads EAST of Smoky Park
On This Map:
Remotely located (out-of-town) 

gas stations

 identified

Unpaved roads are highlighted in red

Rougher trails in gray. 

Mileage for each section of road shown. 




Gas stations, gates, landmarks, and other features listed. 




Pocket sized when fold, measures 11 x 17 inches unfloded. 



Waterproof and durable
---
Description of area:
The Best Unpaved Roads EAST of Smoky Park
 pocket map covers the extensive forested area at the east side of Great Smoky Mountains National 
Park. There are some excellent unpaved roads within the park. The network of roads outside the park cover large areas of the high mountains along the border of  North Carolina and Tennessee. 
Most of the roads are maintained National Forest routes. You'll also find some challenges. The North Carolina sides of the mountains are mostly long gradual climbs through the woods. The Tennessee side of the mountains has some interesting historic buildings and other sights. Gas stops can be a good distance, it's pretty remote country. There are even fewer places to find lunch.   
Side one is a collection of fun roads and trails which include Balsam Mountain Road and others found on the east side of Great Smoky Mountains National Park. This map details the roads close to Maggie Valley & Cherokee, NC.
Side two describes the unpaved roads on the east end of Great Smoky Mountains National Park then continues into the National Forests along the North Carolina / Tennessee state line. The heart of the map is Max Patch Bald which sits on the border of the two states. This is a large wild with numerous forest roads and trails lacing through it.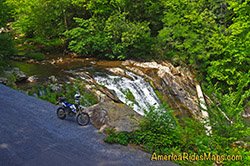 The unpaved rides are divided into two categories:

"Roads" are generally maintained forest roads of easy to moderate difficulty. Shown as red dotted lines, these are suitable for most any adventure bike and skill level. Easy to moderate in difficulty.
"Trails" are poorly maintained roads or rough paths. These are shown as gray dotted lines. Moderate to difficult, these roads are best suited to motorcycles equipped to tackle the rough conditions and riders with more advanced skills.
The distance between each connecting road is shown to aid navigation as well as gas stations, gates, bridges, tunnels, towers, waterfalls, campgrounds and other back country feautures. Still, some seat-of-the-pants navigation will be needed as the area is laced with fire and logging roads, foot and horse paths, private roads, and places motorized vehicles are not permitted. You will not be deprived of an adventure entering these rugged and remote areas deep in the mountains. Expect either wide and pleasant graded & groomed hardback gravel or steep, rocky, wet, muddy, challenging rides - you decide. Both take you to some of the most beautiful mountain scenery that can be accessed on two wheels.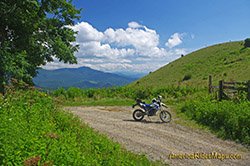 ---
Other Maps of this area:
Map #6 - The Best Motorcycle Rides EAST of Smoky Park is the companion to this map. It shows the great paved roads in this area and beyond. 
You'll also find this area covered on the 100 Motorcycle Rides in the Smoky Mountains map.