The Best UNPAVED Roads in Northeast Georgia
Two sided map of the UNPAVED roads in Northeast Georgia.

June 6, 2019 - NEW Map
10/5/19 - Final version now available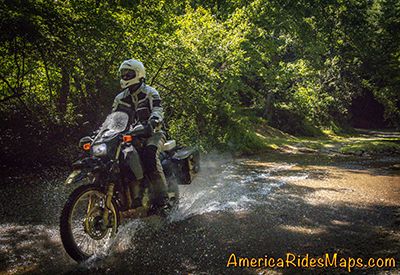 This pocket map details the wealth of unpaved roads found in the northeast corner of Georgia. The map overlaps into North Carolina and just clips the edge of South Carolina.

Frustrated with confusing and limited Forest Service maps I spent a year poking my wheels down every road and trail I could find in this large area and collected the best of them. Adventurous riders may find additional small and challenging trails (most of which lead out to trailheads), but I focused on the best roads and the ones accessible the majority of the year (some have seasonal closures in winter). Most of these roads are maintained forest roads, a handful are more of a challenge, a couple are marked as difficult. In general, these roads are ideal for large adventure bikes without off-road tires and will take you to some beautiful places and sights.
One side of the map covers the Suches, Dahlonega, Ellijay, Blue Ridge, Blairsville area. 

The second side of the map covers Blairsville, Suches Hiawassee, Helen, Clayton, and Tallulah Falls.
The map includes gas stations, roadside waterfalls, selected campgrounds, Two Wheels of Suches Motorcycle resort, Motorcycle dealers and shops, and other points of interest.

The unpaved roads are divided into two categories - the main (more popular) through roads & the smaller and often more challenging side roads. Mileage for each segment of road is provided when space permits. More than 50 unpaved rides are shown.

For the paved roads in this area see maps;
#9 The Best rides in the North Georgia Mountains

100 Great Motorcycle Rides in the Southern Blue Ridge