The Blue Ridge Parkway Set of 6 Maps
          

Description: Maps 1-6
Contains All 6 Maps which trace the Blue Ridge Parkway from Waynesboro, Virginia to Cherokee, North Carolina
Each Map Numbered in sequential order for easy selection
Every paved road and exit on the Blue Ridge Parkway identified
Nearest Reliable Gas Stations to each parkway exit shown
All major sights included on and off the Parkway
Venture off the Parkway with confidence using the most enjoyable rides
Explore and discover sights, areas and great rides others miss
Free yourself from the hassles of unplanned crowded detours
Make the most of your valuable time by knowing every great ride close to you wherever you are
Enjoy the freedom to go off on your own path confident you can find your way
Don't waste your free time sitting at a motel, there's always a great road nearby
Waterproof and durable
---
Details
The Complete Blue Ridge Parkway Series is designed to take your trip on the Blue Ridge Parkway from a 2 dimensional one-road ride to a 3 dimensional explosion of fabulous motorcycle adventures. From any vantage point, any overlook along the 469 mile scenic roadway, know what great undiscovered motorcycle rides lie not only within all you can see, but beyond the horizon.
Other maps may show where the roads are, but none of them show you which ones are worth riding like the maps in the Complete Blue Ridge Parkway series. There are thousands of miles of classic motorcycle rides identified on these maps. You can literally ride to one end of the Blue Ridge Parkway, then return back again via a completely new route comprised entirely of the some of the best two-lane motorcycle rides in the world. I know, I've done it, more than once, and a different way each time!
Don't think the Complete Blue Ridge Parkway series is just for through-riders. After all, the point of the Blue Ridge Parkway was to open up and introduce travelers to the Smoky Mountains. Once you're introduced, let the party begin! No matter where you choose along the scenic roadway, it is the surroundings that make it so special. Don't be limited to the confines of the park. Enjoy the freedom to explore every nook and cranny of this beautiful, scenic, and historic region and discover the wonders and adventures that hide just beyond the next hilltop.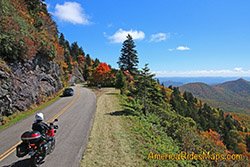 Make the best use of your precious motorcycle ride time, get the most out of your valuable motorcycle vacation time, use the amazing information revealed on these maps to discover one of the best kept secrets - there is more great motorcycle riding concentrated in the mountains of the eastern United States than anywhere else on earth. The maps unlock the door to some of the best of them.
This package includes the 6 maps which best describe the course of the Blue Ridge Parkway from Waynesboro, Virginia, to Cherokee, North Carolina, as well as directing you to the best paved roads found in the surrounding mountains.
Every Great Road which crosses, is adjacent to, or within the mountains surrounding the Blue Ridge Parkway is described in detail

Miles Between each road and exit is shown

Reliable and remotely located Gas Stations are identified

Points of Interest, Parks, Forests, Cities and Towns included

Each map contains days and days of great riding

At least a dozen great roads on each map, some list more than 40!

A brief description of each route helps you choose which ones to ride
---
Features
Maps Overlap and Connect

Adjacent maps indicated on each

Keep just the maps you need for the day handy in your pocket

No messing around with a huge maps that are expensive, hard to fold, and get stowed away out of reach

Handy, easy-to-use, accessible pocket map size
Best Rides boldly 

highlighted in red

Good Connecting Roads 

highlighted in blue

Rides described on back of map
Mileage between road segments shown
Out-of-town and remote gas stations identified
Selected Dealers / Repair shops shown
Ride times / distance included with descriptions
Scenic points, waterfalls, etc. shown

Waterproof version available
---
Map Specifics:
Size (unfolded) - 11 x 17 inches
Size (folded) - 4 1/4 x 5 1/2 inches
Fast, simple, easy folding
Layout - Full color map on one side with detailed directions on the back
Easy to read color-coded road labels to aid navigation

Arrows indicate when turning onto a new road on selected routes
---
Know Your Blue Ridge Map Options:
3 map "Smoky Park" Map set (Maps 6-8)

6 Map "Blue Ridge Parkway " Map set (Maps 1-6)

7 Map "Blue Ridge Parkway PLUS the Dragon " Map set (Maps 1-7)

9 Map "Full Southeast Package " Map set (Maps 1-9)