#11 West Virginia Border Rides - Coal Country
8/5/2019 - New Map!
10/5/2019 - Final Version now ready.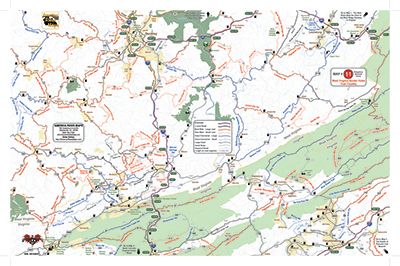 Pocket map #11 - West Virginia Border Rides - Coal Country
This map details the area south of Beckley, West Virginia extending across the border into Virginia.

The Virginia section of this map is characterized by forested mountains with grand views and winding roads which trace scenic rivers. You'll pass through historic towns and attractions, pastoral farms. The West Virginia areas are characterized by active coal mines and an extensive system of roads carving through the rugged mountains to reach them. There a lots of small coal towns and some awesome curvy roads. More than 100 roads are described on this map along with sights and attractions.
Descriptions of the roads are listed alphabetically on the reverse side of the map.

The north end of VA 16 a.k.a. "The Back of the Dragon" (on Map #3) is in the lower left corner, I-77 cuts through the middle of the map into Beckley (the toll section is highlighted so you can avoid it), the lower right corner clips I-81 as it passes Blacksburg and Christiansburg. I-64 winds along the top edge of the map.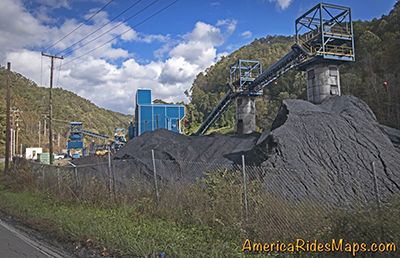 ---
Map Specifics:
Size (unfolded) - 11 x 17 inches
Size (folded) - 4 1/4 x 5 1/2 inches
Fast, simple, easy folding
Layout - Full color map on one side with road details on the back
Best roads a shown in red, good connecting roads are 

shown in blue
Easy to read 

color-coded road labels

 to aid navigation
Mileage of each road section is shown 
Reliable and remote 

gas stations

 are shown
Numerous points of interest, overlooks, and historic sight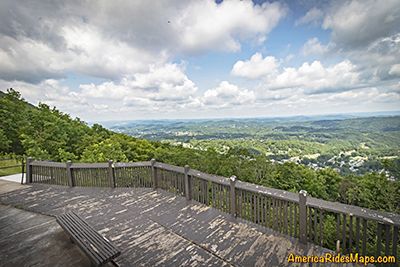 It overlaps with
Map #1 - The Best Rides near the Start of the Blue ridge Parkway in Virginia
Map #2 - The Roads of Roanoke and Beyond
Map #3 - North Carolina Virginia Border Rides
Map #10 - West Virginia Border Rides - New River Area