#10 West Virginia Border Rides - New River Area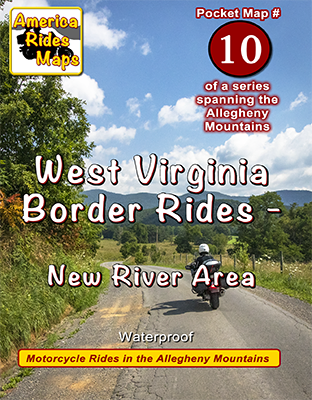 #10 West Virginia Border Rides - New River Area
8/6/2019 - New Map! 
Pocket Map # 10 West Virginia Border Rides - New River Area
This new map explores the area northeast of Beckley, West Virginia extending as far as Snowshoe and across the border into Virginia. where Map #1 "The Best Rides near the Start of the Blue Ridge Parkway in Virginia picks up . It overlaps with Map #2 - The Roads of Roanoke and Beyond and Map #11 - West Virginia Border Rides - Coal Country.
59 roads are detailed along with numerous historic sights and attractions. Descriptions of the roads are listed alphabetically on the reverse side of the map.

These are early release versions printed on waterproof and tear resistant material. Final versions will come in the fall on the nicer quality material.