#10 West Virginia Border Rides - New River Area
8/6/2019 - New Map!
10/5/2019 - Final Version now ready.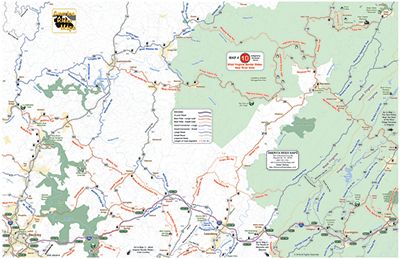 Pocket Map # 10 West Virginia Border Rides - New River Area
This new map explores the area northeast of Beckley, West Virginia extending as far as Snowshoe and across the border into Virginia. The eastern section of the map is mostly forested area with numerous great roads weaving through the mountains and valleys. The central portion of the map is sparsely populated hills and mountains with few paved roads, home to a collection of mines. The western side of the map is dominated by the scenic New River Gorge.

The city of Beckley anchors the bottom left corner of the map, Green Bank with it's enormous radio telescope is in the top right corner. You'll find great riding around the Snowshoe Ski area, discover the Cass Scenic Railroad, and enjoy some twisty rides through the extensive forests. The corridor along I-64 has several great historic stops and towns to enjoy. The prime attraction in the area are the scenic areas along the New River Gorge and the enjoyable roads that take you to parks, overlooks, and waterfalls.   
59 roads are detailed along with numerous historic sights and attractions. Descriptions of the roads are listed alphabetically on the reverse side of the map.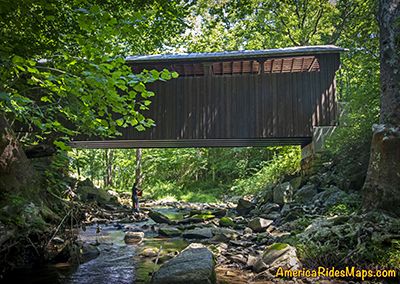 Map Specifics:
Size (unfolded) - 11 x 17 inches
Size (folded) - 4 1/4 x 5 1/2 inches
Fast, simple, easy folding
Layout - Full color map on one side with road details on the back
Best roads a shown in red, good connecting roads are 

shown in blue
Easy to read 

color-coded road labels

 to aid navigation
Mileage of each road section is shown 
Reliable and remote 

gas stations

 are shown
Numerous points of interest, overlooks, and historic sights
It overlaps with;
Map #1 "The Best Rides near the Start of the Blue Ridge Parkway in Virginia

Map #2 - The Roads of Roanoke and Beyond
Map #11 - West Virginia Border Rides - Coal Country.